In today's interconnected world, the continuously evolving technology offers us convenience in our daily lives but it is significant to acknowledge that it also presents us with various threats in the cyberspace.
This year, the Philippines witnessed a string of breaches across  notable government agencies like PhilHealth, the Philippine Statistics Authority, and law enforcement institutions such as the Philippine National Police. Private institutions like De La Salle University also had their own fair share of security incidents.
Amidst this evolving virtual landscape and growing cyberthreats, Secuna emerges with solutions such as Secuna Response (Vulnerability Disclosure Program), designed to boost your confidence and reinforce your security measures.
What is SECUNA RESPONSE?

Secuna Response is a continuous security program that will show your constant commitment to cybersecurity by allowing a community of trusted cybersecurity professionals (hunters) to properly and responsibly report security vulnerabilities concerning your digital assets that can be addressed before threat actors exploit them.
How does SECUNA RESPONSE work?

Secuna Response stands as a powerful initiative to boost your organization's security initiatives. It is essential to have a deeper understanding  on how it works to ensure that you can tailor your security program to seamlessly align it with your organization's business goals and specific requirements.

Here is a quick guide to help you get up and running with your first Secuna Response program:

Step 1: PROGRAM POLICY TAILORING and LAUNCHING
Our platform will allow you to create a customized security program policy tailored to your organization's unique requirements before launching the program. This step enables you to set the necessary rules and guidelines for the hunters to follow as they conduct tests in your organization's assets.

For a deeper understanding of policy tailoring, read the Secuna Response Program Customization here.

Step 2: NOTIFYING HUNTERS and VULNERABILITY HUNTING
Once you launch your program on the Secuna Platform, our hunters will be notified and swing into action. They will meticulously gather information about your application and carefully map its external footprint to pinpoint potential source of breaches during testing.

Step 3: MANAGING REPORTS
After discovering vulnerabilities, hunters will submit a comprehensive report of their findings through your Secuna Response program that will be reviewed, validated, and addressed by your internal team.

As a token of gratitude for their invaluable contributions to your Secuna Response program, our hunters receive the following acknowledgement from your organization:
Thanks - this recognition is granted for each program once a report submitted by a hunter has been successfully resolved, enabling them to track the number of programs they made impactful contributions on the Secuna Platform.
Reputation Points - hunters receive points or demerits to their reputation depending on the status of their reports. These points reflect the quality of their reports and their collaborative efforts with programs, shaping their standing in the Secuna community.
Why do you need SECUNA RESPONSE?

A great way of showing the world your devotion to building a safer cyberspace for everyone is through Secuna Response. These are what's in the bag for you, along with real-life practice of placing high significance to cybersecurity: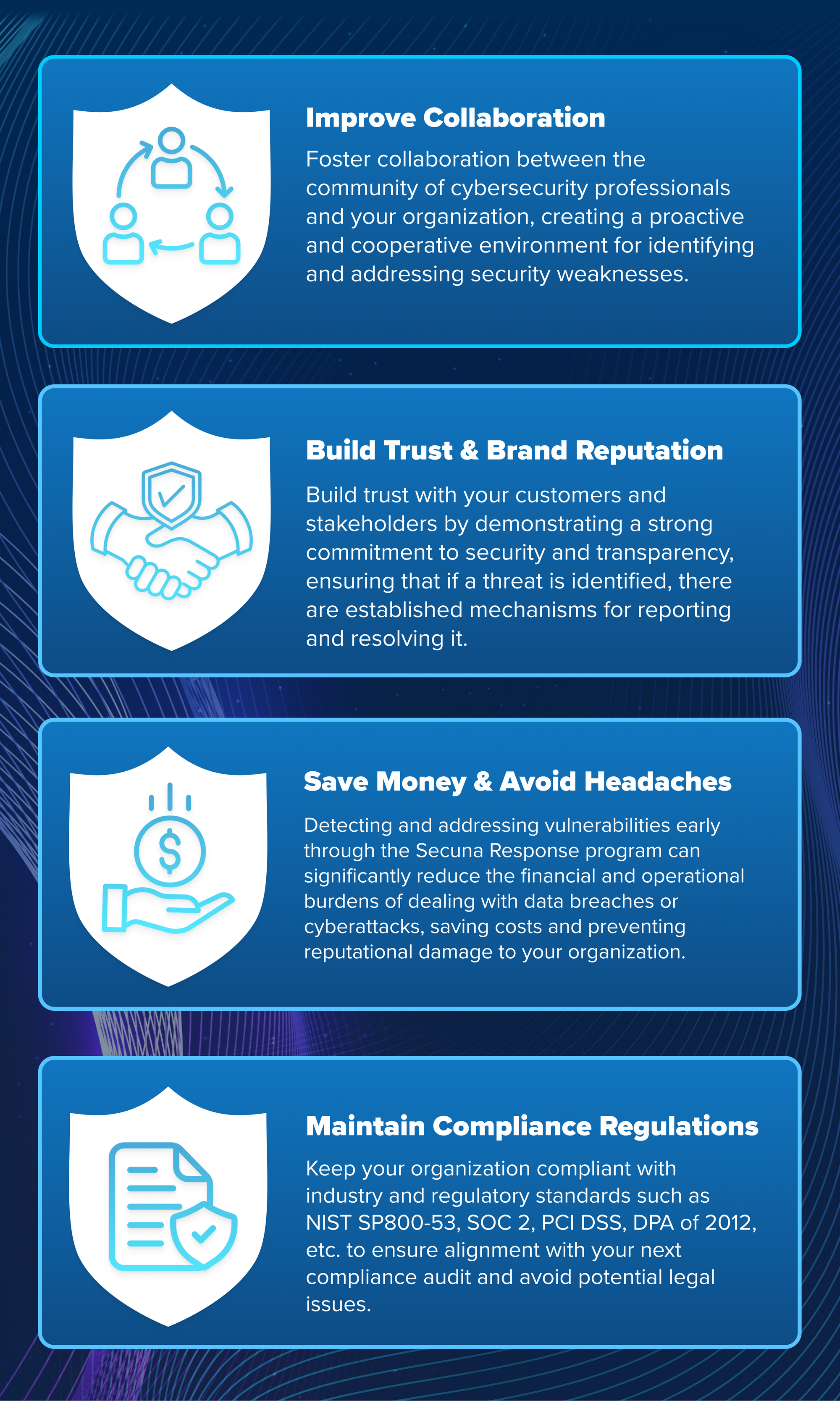 Ready to experience Secuna Response first-hand? Collaborate with us now!